Opening the Book: A Model for Accessible Student-centered Web Publishing
What is it
The "Book in Browser" digital humanities project at the Montana State University Library represents an open-web publishing model that works to broaden access to scholarship and creative works. The web itself offers a naturally open and flexible framework for publishing, and we strived to imbue our project with the open spirit of the web. We adopted an inclusive design approach using the standard web languages of HTML, CSS, and JavaScript to create a fully web-based content ingest workflow and responsive user interface. By leveraging the native capability of the World Wide Web in this way, our book is interoperable across devices, with accessibility and WAI-ARIA markup rendering the book readable for users of all abilities. We have further enhanced access and discoverability by optimizing book content for search engines and social networks. The content published in our book is therefore universally accessible to a global readership.
This model—open, accessible, interoperable—is especially suited for amplifying voices not typically represented in the scholarly conversation, notably undergraduate students. By including students and student-authored works in the process of publishing through the open web, we can empower students to communicate their own perspectives and experiences beyond the walls of the classroom and outside the boundaries of campus. We specifically integrated student-authored works of history and creative writing into our model to highlight the potential for creating an accessible and discoverable platform for student-centered publishing.
We have iterated our "Book in Browser" across two prototype phases:
- Book in Browser, First Edition: A student-authored historical cookbook containing recipes and essays of personal history [Project Code]
- Book in Browser, Second Edition: A literary journal edited and authored by undergraduate students [Project Code]
Why we needed it
The project began in 2012 as a venue for publishing student-authored recipes and essays in partnership with an upper division history course, The History of Food in America. In our initial conversations with Professor Mary Murphy, we could see that her pedagogical goal was an accessible publishing end product created by her students. In early discussions with Mary, our conversation around publication options ranged from an MS Word document to a PDF. We felt there was all kinds of potential beyond these standard forms. By working within an open web environment, we saw the opportunity to construct and design the publishing and reading experience with goals of universal accessibility for students. We created our initials software prototype within the class semester schedule (January to May). Our first edition cookbook was in place by Spring 2012 commencement, allowing students to share their publication with family members and potential employers (Fig. 1).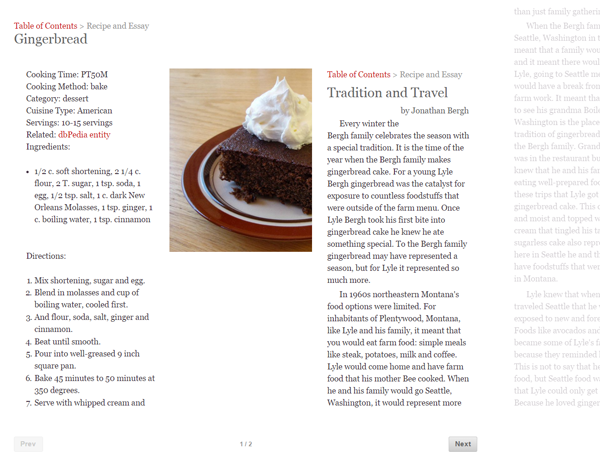 Figure 1: Recipe and essay from the first edition of our publishing prototype, a cookbook for "The History of Food in America," an upper division history class at Montana State University.
The revised second edition of the book model that featured an updated user interface and additional genres was completed between Spring 2014 and Spring 2015. The second edition included a publication for Opsis, MSU's student-run literary journal (Fig. 2).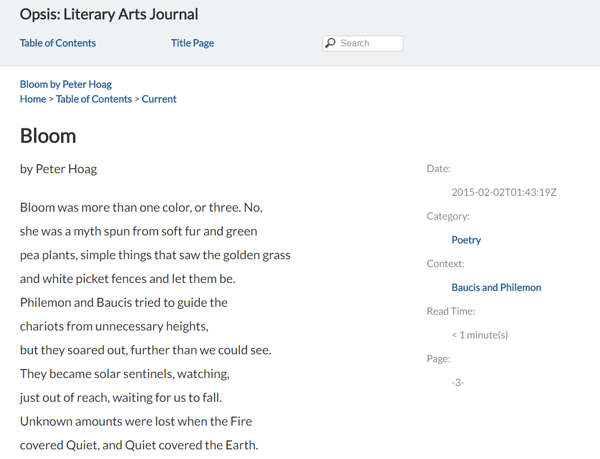 Figure 2: Poem from the second edition of our publishing prototype, a literary journal edited by students from the English Department at Montana State University.
What we used
In crafting our open publishing prototypes, we were fundmentally motivated to work with the grain of the web. We identified the potential in reworking HTML and various open web technologies to present book content for a variety of readers. We grounded our book objects in HTML, CSS, and Javascript. The HTML markup was designed around accessible and semantic divisions of typical book content sections, including <header>, <section>, and <footer> [see Appendix for example markup]. We atomized these components into a MySQL datastore that allowed us to dynamically remix book content into the flexible container of the webpage. Our MySQL database included several fields (title, author, text, description, dates, topics, etc.) that held the content and allowed us to bind together tables of content, chapters, articles, or recipes. This exercise in deconstructing the book into composite pieces provided new insights into the access and discovery capabilities of publishing book content in an open web environment. We therefore focused on accessibility markup, discovery metadata, and linked data expressions that could help assistive technologies, search engines, and indexing agents understand the meanings inherent to the textual content. Our guide here was the Schema.org vocabulary, and we applied it using RDFa HTML5 markup embedded in our book pages. Because the software is essentially a web application, we used the common infrastructure of a web server, HTTP/s protocol, and a web browser to deploy for universal access.
Why we use it
We have used our open-web book publishing model for three primary purposes:
Student Platform
This model engages students in the work of digital humanities and the scholarly communication lifecycle. By grounding the publishing process in a learning moment, we can give voice to students while also showing what it means to participate in the modern publishing ecosystem.
Library as Publisher
With this model we are exploring opportunities for libraries to lead campus publishing efforts. With a deep connection to information technology in general and to the web in particular, libraries are well suited to adapt and adopt this model and apply structured, semantic web markup to book objects.
Universal Accessibility and Open Licenses
We use this publishing system to demonstrate that by working within the inherent structures of the web, we can build a digital book that allows for machine accessibility and open access. The material published through this model is freely accessible for students and optimized for web search and assistive technologies, resulting in increased usage and decreased costs for students. We leverage open web markup to show how intellectual property can be created for reuse with open licenses. And finally, we use the ubiquitous computing environment—the web—to ensure that our content is interoperable across devices and accessible to all through the web browser.
Funding
The first edition of our prototype was designed and developed in-house. We then received a grant through the IMLS Sparks! Program to expand the project into multiple genre categories.
Skills and Resources
- HTML
- CSS
- JavaScript
- MySQL
- WAI-ARIA
- Schema.org
- RDFa
- Staff time for data ingest and metadata creation
The emerging standards of Scholarly HTML and the Digital Publishing Interest Group of the W3C provide guidance for markup and define the evolving direction of digital publishing.
Appendix 1 - Sample HTML markup with RDFa and epub:types
<!doctype html>
<html lang="en" vocab="http://schema.org/" typeof="CreativeWork" xmlns:epub="http://www.idpf.org/2007/ops" resource="https://arc.lib.montana.edu/book/opsis/item/3">
…
<body id="book" property="mainEntity" typeof="Book" resource="https://arc.lib.montana.edu/book/opsis/item/3#book">
…
<header id="top" role="banner">
<a href="/book/opsis/item/3" property="url"><span property="name" epub:type="fulltitle">Bloom</span> by Peter Hoag</a>
…
<main data-bookmark="#" id="article" typeof="Article" epub:type="bodymatter chapter" role="main" resource="https://arc.lib.montana.edu/book/opsis/item/3#article">
…
<section class="reading-view">
<div class="reading pane">
<p>by <span class="byline" property="author creator">Peter Hoag</span></p>
  <span class="poetry" property="text"><p>Bloom was more than one color, or three. No, <br />
…
<aside class="metadata pane" epub:type="help appendix" role="complementary">
  <dl>
    <dt>Date:</dt>
    <dd property="datePublished">2015-02-02T01:43:19Z</dd>
    <dt>Category:</dt>
    <dd property="genre" resource="http://dbpedia.org/page/Poetry"><a property="about" content="https://en.wikipedia.org/wiki/Poetry" href="https://en.wikipedia.org/wiki/Poetry">Poetry</a></dd>
    <dt>Context:</dt>
    <dd property="additionalType" resource="http://dbpedia.org/page/Baucis_and_Philemon"><a property="about" content="https://en.wikipedia.org/wiki/Baucis_and_Philemon" href="https://en.wikipedia.org/wiki/Baucis_and_Philemon">Baucis and Philemon</a></dd>
    <dt>Read Time:</dt>
    <dd><time property="timeRequired" datetime="PT1M">< 1 minute(s)</time></dd>
    <dt>Page:</dt>
    <dd epub:type="pagebreak" class="pagination">3</dd>
  </dl>
</aside>
</section>
…
<footer role="contentinfo">
<ul class="info-links">
  <li><a href="/book/opsis/item/3#top">Top of Page</a></li>
  <li><a epub:type="toc" href="/book/opsis/table-of-contents.html">Table of Contents</a></li>
  <li><a epub:type="other-credits" title="CC BY 3.0 US" property="license" href="https://creativecommons.org/licenses/by/3.0/us/">
  License</a></li>
  <li property="publisher provider">Montana State University (MSU)</li>
</ul>
</footer>
…
</body>
</html>